WHERE: Riemannstr.7, 10961 Berlin (U7-Gneisenau)
WHEN: TUE-FRI 11-8, SAT & SUN 12-4
WHAT: Click to find out what's going on!
INFO: Another Country is an English Language Second Hand Bookshop, which is mostly used as a library. We have about twenty thousand books that you can buy or borrow. You simply pay the price of a book, which you get back, minus a 1,50 Euro charge, should you choose to return it.
Another Country is also a club which hosts readings, cultural events, social evenings, filmnights and many other things.
CONTACT: info@anothercountry.de
We been favourably mentioned in many international travel articles. Read all REVIEWS here!
ENGLISH FILMCLUB
Every tuesday at 8 p. m.
STAMMTISCH
Every thursday at 8 p. m.
DINNER NIGHT
Every friday. Dinner at 9 p.m.
MORE:
Get our Widget for your Blog, Homepage, MySpace, Facebook...!

FAQ: HOW TO use this blog, how to comment, how to create a link, how to embed a video etc.

CD: Sounds and Words from Another Country ...more!

More: Berlin International (English Links)

FUEL - Music & Readings - Every 2nd Sunday at "Schokoladen" - Hosted by LADY GABY

English Berlin Blogs
Reading Groups in Berlin
ARTISTS:
MUSIC:
BLOGS:
From East LA to The East Village to East Berlin
PLACES:
Friends of the Italian Opera (English Theatre)
MOVIES:
AD: Resident native speaker of English offers classes for small groups or individual tailor-made lessons ranging from beginners up to proficiency level at reasonable rates.


ARCADE : Pac Man - Space Invaders - Donkey Kong - Asteroids - Frogger - Centipede - Q*Bert - SuperMario - Super Mario World - Sonic - Zelda




HOME - ANOTHER COUNTRY - ART - BERLIN - BOOKS - FUN - GAMES - GENDER - HISTORY
MOVIES - MUSIC - PEOPLE - POETRY- RADIO - SCIENCE FICTION - TRAVEL - TV - WEB - WEIRD

ANOTHER BERLIN - Join the English Berlin Network
TV:
Berlin Alexanderplatz on DVD
Wikipedia: "Berlin Alexanderplatz, originally broadcast in 1980, is a 14-part television miniseries adapted and directed by Rainer Werner Fassbinder from the Alfred Döblin novel of the same name, and stars Günter Lamprecht, Hanna Schygulla, Barbara Sukowa, Elisabeth Trissenaar and Gottfried John. The complete series is 15 ½ hours long.(...)
Beginning in 2006, the series underwent restoration and remastering. Berlin Alexanderplatz: Remastered received its world premiere on February 9, 2007 at the Berlin International Film Festival for which episodes 1 and 2 were shown. The entire series ran on February 11 in five installments. A DVD set containing additional material was released in Germany on February 10, and will be released in America from the Criterion Collection before the end of the year."
So, whenever that dvd-box is out, we will get it and show the whole damned thing, ok?
Anyone
Berlin Alexanderplatz PICs
Barbara Sukowa und Günter Lamprecht in der Fernsehserie 'Berlin Alexanderplatz'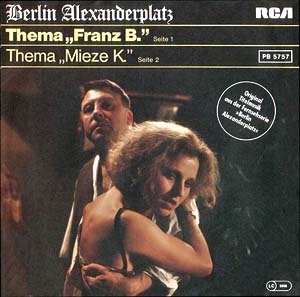 Soundtrack
... Link